Telling Stories with Data
Julian H. Lange uses analytical approaches and graphics to bring out the stories buried within data.
Julian received his Ph.D. in Biology from M.I.T. in 2008 and completed a postdoctoral fellowship at Memorial Sloan Kettering Cancer Center. His biomedical research has been published in more than 20 articles.
In 2018, Julian completed an M.S. in Data Visualization at Parsons School of Design and interned with the Los Angeles Times. Currently, he provides data visualization and business analytics support at Charter Communications, teaches at Parsons School of Design, and conducts freelance work.
Analysis and visualization tools: R, JavaScript, D3.js, p5.js, HTML/CSS, Adobe Illustrator, Adobe Photoshop
LeBron's future at the Lakers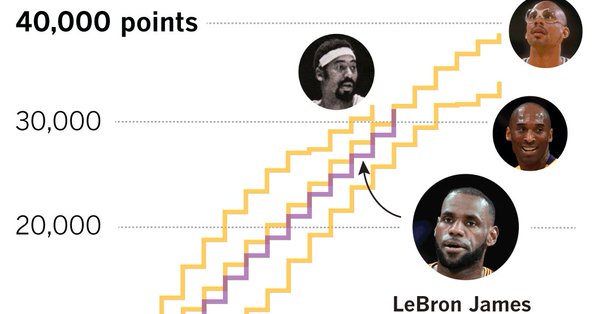 LeBron James is undoubtedly one of the NBA's great scorers, seventh in all-time NBA scoring entering the 2018–19 season, but can he break Kareem Abdul-Jabbar's record?
At the Los Angeles Times, Julian and Ellis Simani compared the scoring timelines and career trajectories of James and Laker greats from the past.
Analysis with R; visualizations with JavaScript and Illustrator
Kings, queens, and their courts
Professional tennis tournaments are played mainly on three surfaces – hard, clay, and grass – and players must adapt to each court.
At the Los Angeles Times, visual journalist Kyle Kim and Julian produced this definitive guide to tennis court composition, including visualizations of how the best players – the kings and queens – fare on each surface.
Analysis with R; visualizations with JavaScript and Illustrator
Thin margins of victory in elite sports
Winning margins in elite sports are often vanishingly small. To surmount these margins, athletes continuously acquire sources of edge, from training methods to nutrition and equipment.
This trio of interactive visualizations highlights three stories from and beyond the edge of victory, including an animation of the 2018 Winter Olympics men's singles luge event.
Visualizations with JavaScript, D3.js, and p5.js
Visualizing changes in income inequality in Africa
Recent research conducted by the United Nations Development Programme identified drivers of income inequality in sub-Saharan African and proposed solutions.
This interactive visualization arose through a partnership with the U.N. and uses historical inequality data from the World Bank. By showing a snapshot of changes in inequality over time, this visualization can be used to assess whether implemented policies have improved equality.
Analysis with R; visualization with JavaScript and D3.js
River shapes: the meanders of the world's great rivers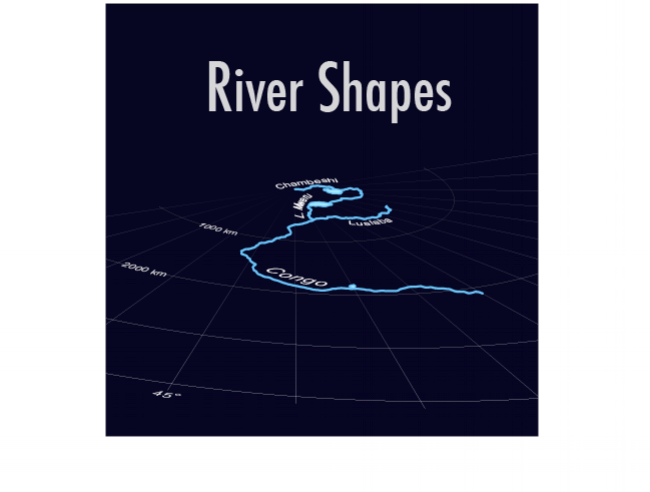 The world's great rivers are often compared by length, output into the ocean, and size of drainage basin. Equally fascinating are their shapes. Whereas some rivers take a direct route, others stray far and wide.
This visualization displays the shapes of ten major rivers and the degrees to which they deviate from the straightest line between their headwaters and oceans.
Visualizations with Illustrator and Photoshop
Shattering the mouse genome: protein vs DNA
Cells that are destined to become sperm make a protein called SPO11, whose purpose is to shatter the genome. The cells then use the ends of each DNA shard to stitch the genome back together. This molecular break-and-repair process is called recombination.
Working with a team of scientists, Julian collected and analyzed gigabytes of data about where in the mouse genome this protein preferentially breaks the DNA. He used data visualization to uncover previously invisible spatial patterns.
This story was brought to life in a print publication by dozens of visuals accompanying the text.
Analysis with R; visualizations with R, Illustrator, and Photoshop
The sword is mightier than the racquet
Monica Seles was the best female tennis player in the world in the early 1990s, having overtaken the top ranking from her main rival, Steffi Graf.
Then, in April 1993, while Seles was playing at a tournament in Hamburg, a man rushed onto the court and stabbed her in the back with a nine-inch boning knife. His aim was to restore Graf to the number 1 ranking.
This infographic highlights the disparate trajectories of Seles's career before and after the attack.
Infographic with Illustrator and R